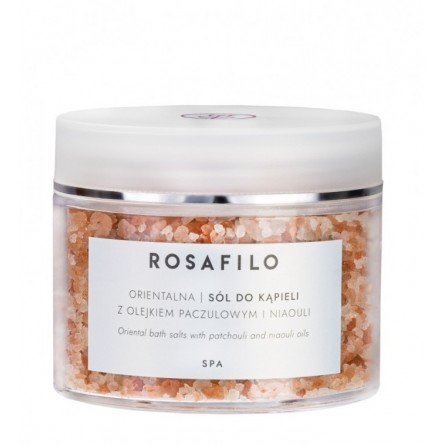  
Oriental bath salt
Oriental bath salt is an extraordinary pleasure for our senses.We feel immense
relaxation thanks to natural sandalwood, patchouli and niaouli oils.

Oriental bath salt has in its composition Himalayan salt, dead sea salt and essential oils.
Our body receives minerals for better functioning.Our bathroom turns into a home SPA. After bathing, our body is warmed,
skin is moisturized and firm. Our mood has improved.

Action:
firming
- relaxing
- rejuvenating
- mood improvement



Oriental bath salt is an extraordinary pleasure for our senses. 
We feel immense relaxation thanks to natural sandalwood, patchouli and niaouli oils.

Oriental bath salt has in its composition Himalayan salt, dead sea salt and essential oils.
Our body receives minerals for better functioning.Our bathroom turns into a home SPA. After bathing, our body is warmed,
skin is moisturized and firm. Our mood has improved.

Action:
firming
- relaxing
- rejuvenating
- mood improvement

ONLY NATURAL INGREDIENTS!
NO PRESERVATIVES!


Pierwszym etapem kąpieli w soli orientalnej jest zwykła kąpiel, w której za pomocą kosmetyków myjemy ciało. Wykonujemy tą pierwszą kąpiel dla tego, że w słonej wodzie mydło się nie pieni, a to właśnie piana jest czynnikiem myjącym. Tą część powinniśmy wykonać w miarę szybko. Po kąpieli spuścić wodę z wanny, spłukać pozostałości i nalać ciepłą wodę.

Drugi etap to kąpiel z naszą solą. Do wanny wlewamy niewiele więcej ciepłej wody (najlepiej, żeby miała ona temperaturę ok. 37 stopni C) niż przy zwykłej kąpieli, ponieważ od ilości nalanej wody zależy ilość soli jaką wsypujemy do wanny. Stężenie soli podczas kąpieli powinno być duże, im więcej tym lepiej dla naszej skóry. Proponujemy do wanny wsypać ok. 10 łyżek soli.

W kąpieli spędzamy ok. 30 minut , jednak pamiętajmy , aby tego czasu nie przekraczać. Osoby posiadające problemy z krążeniem powinny skonsultować z lekarzem możliwość korzystania z kąpieli w solach.

Zachęcamy do korzystania z takiej kąpieli i domowego SPA raz w tygodniu.
Sodium chloride (Himalayan salt), Maris Sal (Dead Sea Salt), Vitis Vinifera (Grape) Seed Oil, Amyris Balsamifera Bark Oil
Pogostemon Cablin Oil, Melaleuca Viridiflora Oil, Litsea cubeba oil, Juniperus Virginiana Oil, Citrus Paradisi Peel Oil (Grapefruit Oil), Citrus Bergamia Oil